Bridal Shower Themes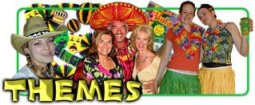 Bridal shower themes help to coordinate all other party ideas. Invitations, decorations, favors, gifts, and even your menu, can be based around your theme. Pick this first, and the rest of your plans will fall into place.
How do you choose your theme? Consider the bride's preferences and taste. What will make her feel the most comfortable? What are her hobbies and/or interests? Does she have favorite colors? Does she have a definite style? Answers to these questions will help you decide.


Carry your theme further by having guests dress to coordinate with your idea, play music that goes with it, and invite guests to choose related gifts.
*** Have a great bridal shower theme idea? Share It!

---
So Many Choices

• An absentee bridal shower party solves an increasingly common problem for many couples.
• All Throughout the House: This may also be called a "room by room shower." Guests are assigned a room of the house and  asked to bring an appropriate gift. Examples: kitchen...blender, bathroom...towels, bedroom...sheets, etc. Your centerpiece could be a grapevine birdhouse decorated with flowers, and favors could be mini houses.

• Alphabet Time: Each guest is given a letter of the alphabet, and is asked to bring a gift that starts with the letter. This idea can work well for teachers or anyone who works with letters.
• Beach Party: Cool drinks, warm sand, lounge chairs, and beach games, are images of this fun theme.
---
Some Bridal Shower Themes Are Personal

• Bed and Breakfast: Picture a quaint little inn. Decorate with soft colors and lots of flowers. Guests are asked to bring any gift for the bedroom or kitchen. Favors could be fancy chocolates or a sachet pillow.
• Breakfast at Tiffany's: take inspiration from Audrey Heburn in a black dress, sunglasses, and large brimmed hat. Add signature blue boxes, jewels, and martini glasses as decorations for this classy event.
• Bride's Favorite Color: Bridal shower themes don't get much easier than this. Decorate with three shades of the bride's favorite color. Guests bring a gift in this color. It may be blue sheets, yellow towels, red lingerie or a white appliance.
• Bring on the Romance: Decorate with soft colors and play mood music. Gift ideas: scented candles, lingerie, perfume, or satin sheets.



• Camping theme: go outside and start the grill, or create a casual atmosphere inside.

• Casino party: The stakes are high that this theme will be a hit. Let the games and fun begin.
---
Some Are Creative

• Cocktail party bridal shower themes can be great social get-together's when done responsibly.
• Craft  shower: Is the bride-to-be crafty? One of the newer trends for bridal shower themes is to create a project using a method she enjoys.
• Destination shower: is there a place that she has been to, or always wanted to go to, that she loves? Build your party around this idea. Invitations, decorations, food, gifts, and favors are all geared toward this location
---
Some Are Based Around A Time Period

Some bridal shower themes can be based around a specific time.
Tie dyed shirts, smiley faces, and peace signs...it must be the Sixties.
Disco: step back to the 70's...mirror ball, platform shoes, bell bottom pants.
Fishnet gloves, neon bracelets, and leg warmers...it must be the eighties.

• A fiesta theme is fun and colorful.
• A First time party theme can be both fun and practical. Think of the many ways you can help the new couple.

---
 Some Are Based Around Food

• Hollywood Party Theme: The glitz and glamor of celebrities, old and new, help make this theme "a star".
• More Hollywood party ideas...
• Honeymoon: Where is the couple going for their honeymoon? Decorate with this destination in mind. Ask guests to bring gifts that the couple can use...beach towels, a suitcase, a camera, a photo album, etc. This is one of the most appreciated bridal shower themes.

• An Ice Cream theme is popular year round. Decorate with pastel shades or the colors of sherbet. Set up a make-your-own-sundae station, with all the toppings
• Irish Princess theme...

• Karaoke night: Rent a machine, or reserve a room at a local bar. This is an entertaining idea for all involved.

• Kitchen party: This cozy theme is also practical. Help the couple equip their kitchen and recipe file.
• Luau party theme: Sun, sand, palm trees and the ocean breeze. Add cold drinks, and colorful leis.
---
Some Are Colorful

• Movie Lover: build your plans around her favorite movie...Breakfast at Tiffany's, Pretty In Pink, etc.
• Organic shower: decorations, food, gifts, and favors, are all based around this healthy lifestyle theme.
Some bridal shower themes are casual and fun.
• Pirate theme: Ahoy mates! Grab your eye patch and bandana.
The treasure hunt is on with these pirate theme party ideas.

---
Some Are Cozy

•"Princess" describes her perfectly. This should be her party theme. There are all kinds of princesses...fairy tale, shopping, rock, beach, fashionista, cowgirl, etc. So, decide her type and start your plans
• What's a Progressive Bridal Shower?
• Shoe Lover:
Turn her passion into an event.
• Tea party theme: this classic choice can accommodate any size guest list.
---
Some Are Unique

"Go retro" with a
• Vintage party theme...
• Western Party: A campfire, country music and line dancing come to mind. Put on your cowboy boots, jeans, and bandanas for some down home fun.
• Wine and Cheese Tasting: Display a variety of wine, and an assortment of cheese and crackers. No one will "whine" at this fun party.
More wine and cheese party ideas...
Have you noticed, at the parties you've attended lately, the addition of an assortment of candy? You can build a whole theme around it...and some hostesses have!
• Need more bridal shower themes?

---
Have Any Great Bridal Shower Theme Ideas?
Do you have a unique bridal shower theme planned? Maybe you've been to a theme party you thought was awesome. Share it!
What Other Visitors Have Said
Click below to see contributions from other visitors to this page...

---
Homepage:
Contact Us:
Sitemap: