Bridal Shower Luau Party Theme
Host a bridal shower luau party theme, for an event that will be remembered by all. Meaning "feast" in Hawaiian, a luau is used to celebrate a special occasion. So if the bride-to-be (or couple) likes tropical breezes, warm sand, and cool drinks, then a luau party it is!

Do you live near the beach or any body of water? That's the perfect location, weather permitting. You can also have fun creating this theme in a private home or rented hall.
---
Invitations

Bridal shower luau party  invitations will be your first island greeting.
• Cards that have tropical scenes, palm trees, or a map of Hawaii are some of your options.
• Let guests know if they should bring a gift that's related to the bridal shower luau party theme.
• Request that guests dress for this island event. Women can wear colored sundresses, with a flower in their hair, or floral shirts and casual slacks or shorts.
Men can wear Hawaiian print shirts and comfortable slacks or shorts.


---
Bridal Shower Luau Party Theme Decorating Ideas

Welcome guests with your luau decorations.
• Greet "Aloha" with Hawaiian leis. Have a basket filled with these, at the entrance.
• Set up an island paradise with tiki torches and palm trees.
• Tropical scene setters are a great way to set the mood.
• Netting can also be used as a backdrop on which to hang masks and shells.
• Scatter bamboo baskets and leis around the room.
• Your luau decorations can also include wind chimes and tropical lights.
• Cover tables with either a solid or print tablecloth. Outline the edge of tables with grass skirts.
• Fill glass fish bowls with water and a couple drops of food coloring of your choice. Add floating candles. Use one or more as your luau centerpiece.
• Scatter some sand and shells on the table to add to the island feel.
---
Gifts and Favors

Bridal shower luau party theme gifts:
• Set of glasses for tropical drinks.
• Ice bucket
• Beach chairs
• Lotions, spa and foot care for beach-baring skin.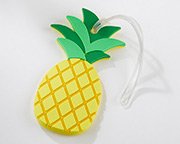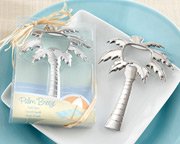 Luau Party Favors:
• Luau picture frame
• Seashell candle
• Lip balm or gloss
• Ocean-scented potpourri
• Shell necklace
• Silk flower hair
---
Entertainment

Tropical Games:
• Hula...have some hula skirts on hand, and someone willing to show some of the moves.
• Limbo...how low can they go?
• "Name that Hawaiian tune"...winner guesses the tune first.
• Games available for your luau party..
Breezy Music:
Luau music is a must for the island feel. Make sure you keep it going throughout the party.

---
Menu
Luau Menu:
Light Snacks:
• Goldfish crackers
• Watermelon bowl filled with fruit
• Crab dip
• Macadamia nuts
Tempting main meal:
• Chicken kabobs
• Sweet and sour meatballs
• Coconut shrimp
• Rice
• Shell pasta salad
Tropical Drinks:
Serve drinks in real or plastic coconut cups, along with cocktail umbrellas.<br>
• Mai Tais
• Pina Coladas
• Daiquiris
• Fruit smoothies
• Punch recipes for your theme party
Bridal shower luau party theme cake: Make a sheet cake and ice with vanilla frosting. Decorate with store bought tropical miniatures, such as fish, birds, flowers, hula girl, or palm tree.
*** This colorful yet relaxing theme is sure to be enjoyed by all.
---
• Would you like to see some beach ideas?
• Go from luau theme page, to Bridal Shower Ideas For You homepage.

Homepage:
Contact Us:
Sitemap: