Bridal Shower Food
Bridal Shower Food can range from simple snacks to an elegant meal. Your menu will be influenced by your location, the number of guests, the theme and your budget. A brunch, snacks only, or a dessert bar are just some of your choices.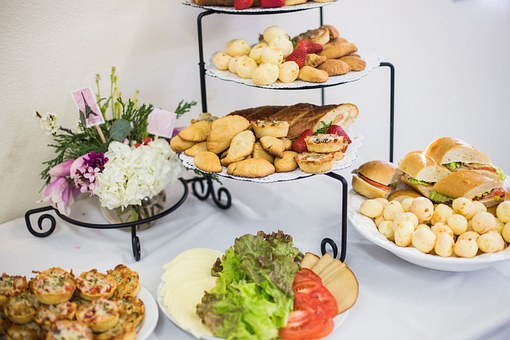 The time of day will also help you decide. Traditionally, parties have been held on a weekend afternoon. In most cases this still works well, but any time is acceptable.
*** Have a favorite bridal shower recipe? Share it!

---
Bridal Shower Food Suggestions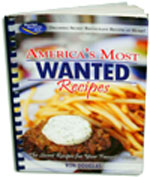 If you are doing the cooking yourself, or with help from others, first decide what the "guest of honor" would like. Does she have a passion for a certain restaurant dish? Surprise her with a homemade version. America's Most Wanted recipes may be just what you need to help prepare the bridal shower food. You're sure to find the perfect creation
The bridal shower food can be related to your theme. For example, a Western theme could have barbeque, or a Bed and Breakfast theme could have tea and petite sandwiches.

• Menu suggestions:

Light snacks:
pretzels, chips and dip,
fruit plate,
hot hors d'oeuvres,
tea sandwiches

Brunch:
Omelettes, egg casseroles, rolls, pastries, cold cuts, fruit tray

Cold lunch buffet:
Cold salads (potato, coleslaw, macaroni), cold cuts, rolls, tossed salad

Hot lunch:
Chicken, mashed potatoes, fresh vegetable, rolls


---
• Questions to ask a caterer... have yours ready ahead of time.
• Questions to ask at a restaurant...know upfront what will apply to your party.
---
 Extra Thoughts

• Whether your event meal will be served at a restaurant, catered at a hall, or made at home, it is a nice gesture to plan ahead for any guests with special dietary needs.
• Plan menu choices that go along with your theme. This is a great way to narrow down your choices, and can make decisions easier.

• If children are invited, you may want to have some "kiddie" food.
• Take into consideration the time of day when planning your menu.
---
You May Be Interested

• Appetizer party recipes... party favorites, everyone will enjoy.
• Easy chicken recipes... impress your guests with these simply delicious choices.
•  Bridal shower punch recipe... colorful and flavorful to adapt to any venue.
• Bridal shower cake options... always memorable, usually the star of the show.
• How to use bridal shower cookies... great choices as your main item, or in addition to other desserts.
• Food presentation... make it visually appealing to add to your overall look.
• Food tips... did you know?
• Candy buffet ideas... colorful and fun for kids of all ages!
*** Have fun and don't stress. Serve what you are comfortable with both personally and financially. Your mood will definitely pass onto your guests!


---
Have a Favorite Bridal Shower Recipe?
Do you have a favorite bridal shower recipe? Maybe something you make that always recieves compliments, or a food you had, that you just had to get the recipe for. Share it!
What Other Visitors Have Said
Click below to see contributions from other visitors to this page...

---
• Return to Bridal Shower Ideas For You homepage...

Homepage:
Contact Us:
Sitemap: