Bridal Shower Centerpiece
The bridal shower centerpiece helps to set the stage for your party. A lush floral arrangement, a candle scape, or a balloon centerpiece, are all options. A stand alone item related to your party theme is also a good choice.


Will you have one large arrangement and several smaller ones, or will all be of equal size? Ideally, there should be one or more on each table, depending on it's size. Your budget will also play a part.
*** Do you have a unique bridal shower centerpiece idea? Share it!

---
Fantastic Florals

• A bridal shower centerpiece can be used as your main table piece, and then given to the bride or hostess, as a cherished souvenir. The creative display in the photo above uses water pearls to add a light airy feeling to the decor.
• Fresh floral arrangements are always appropriate.  They create instant color, and aroma. A simple yet dynamic idea is to put them in a clear vase, and add a bow in a related color. Fresh flowers can be ordered from a florist, purchased online, or selected at your local grocery store.

• Artificial or silk flowers: Sold separately or prearranged, these are available in craft, gift, and online stores. A table centerpiece made with silk flowers is everlasting, and most look very real. If you are creative, arrangements can be assembled at a reasonable cost. You'll have the choice of almost any flower and color. A single flower in a milk glass vase, or a basket of mixed silks with greenery, are possibilities.

• Topiary: While these can be found in many shapes, we usually think of the decorated ball-shaped trees for parties. These are a beautiful bridal shower centerpiece idea. They can be found in gift shops and craft stores. If you purchase plain green ones, adorn them with petite silk roses and ribbon in your chosen colors.


---
Creative Bridal Shower Centerpiece Ideas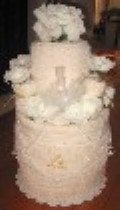 Cake: The bridal shower cake is often used as the main table centerpiece. Cakes have become works of art and are often displayed as such.
• The towel cake is always popular.  Made up of towels, washcloths, lotions, and other themed items, it becomes a usable gift for the bride-to-be to take home.

• Candles are a versatile option. Sold in all different shapes and sizes, they are easily adapted to various centerpiece ideas.
• Balloons: A balloon centerpiece may fit in with your bridal shower theme.

---
Great Gift Display Choices

• Theme Items: You may have chosen a sport, hobby or other specific topic for your theme. What could you use that would fit with that theme? A beach party could have a pail filled with lotion, a towel, sunglasses, etc. A luau theme could have leis and flowers.

• Party Goods: Many of the party items available, have a matching paper centerpiece. This may work for you.

• Pictures: A framed picture of the future bride and groom is a great bridal shower centerpiece idea. You can surround the picture with a wreath of silk flowers, or several fresh loose flowers.

• Gift baskets: assemble a basket of items to give as your gift. Use this as your main display, then the bride keeps it after the party.


---
*** Final Thoughts
Make sure the height of your centerpieces aren't too tall, when placed on table where guests will sit to eat. You don't want to block their view, when they are trying to speak to someone on the other side of the table.
    Let your centerpieces add to the overall look of the room.

---
Have a great bridal shower centerpiece idea?
What unique bridal shower centerpiece idea have you used that everyone loved? Did you attend a party with an unusual idea for a table decoration? Share it!

What Other Visitors Have Said
Click below to see contributions from other visitors to this page...

---
• Coordinate your centerpiece with your decorations...
• Go to Bridal Shower Ideas For You homepage...
Homepage:
Contact Us:
Sitemap: