Bridal Shower Decorations
Bridal shower decorations can be simple or elaborate, and still make quite a statement. Your theme is a great place to start. It will give you a definite direction to follow when decorating. Location and budget will also influence your choices.

---
TABLEWARE AND PAPER GOODS
Your party look can often be determined by the paper goods you choose. You may decide to decorate around the seasons, use a particular color scheme, or choose favorite colors of the bride.

• A black and white theme is always a classic, and never goes out of style. It can be successfully used for a variety of styles including contemporary, and vintage.
• Metallics also blend well and are very popular.
You'll find a wide assortment of gold, silver, rose gold and copper items.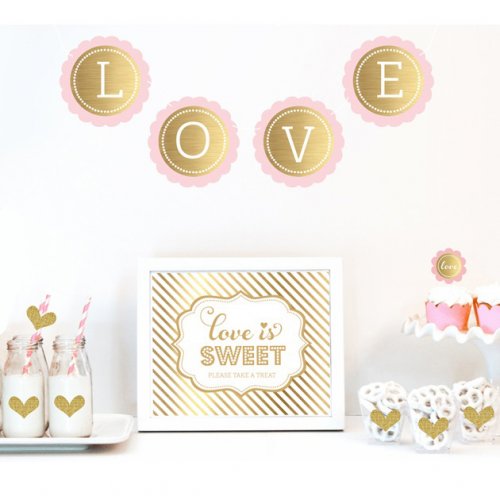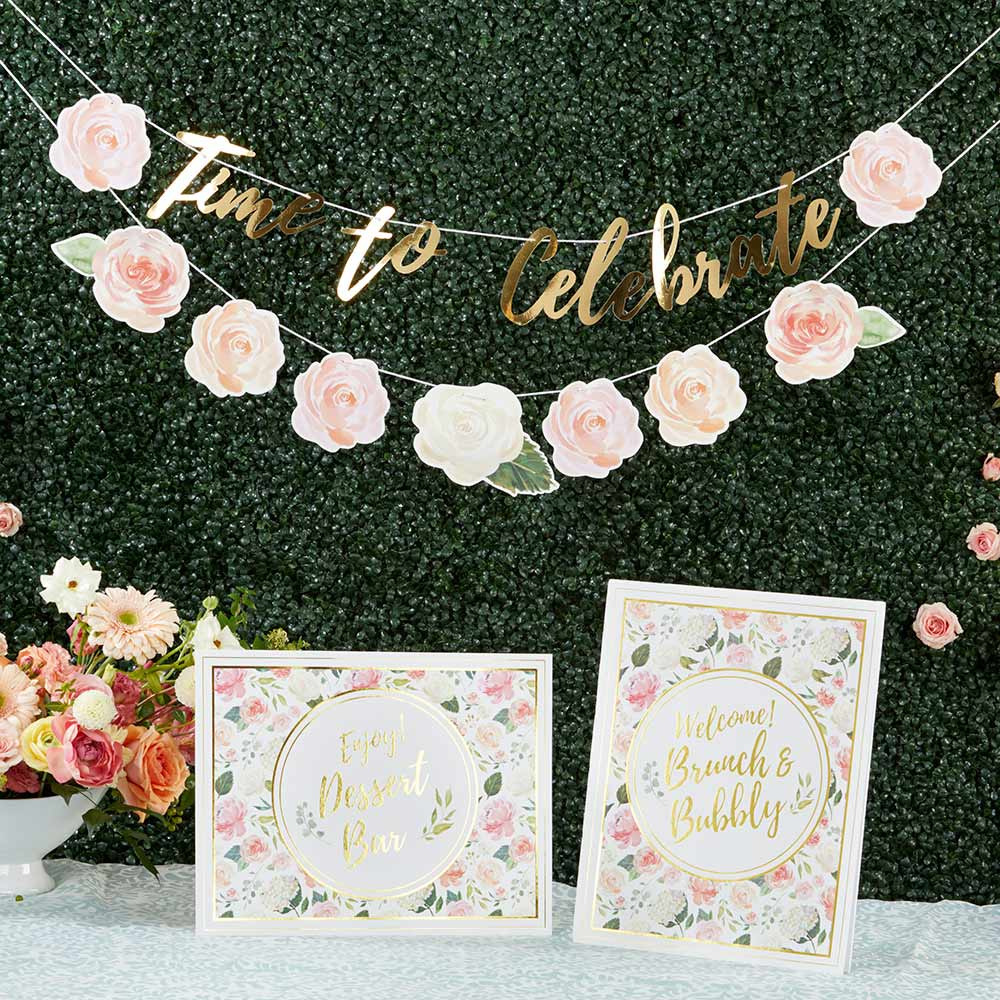 • Coordinated bridal shower kits come in a variety of lovely designs. Including all the decorations and supplies you'll need, these sets are an easy solution to your party plans saving you time and money.

---
ROOM BRIDAL SHOWER DECORATIONS

• Balloons can be used to coordinate with the color scheme of any bridal shower. They are very showy and easy on the budget. Suspend them from the ceiling, or place them around the room in groups. Anchor a bunch above the bridal shower centerpiece, for a dramatic effect.
• More ideas for decorating with balloons...
• Using personalized banners... can be a creative addition to your bridal shower decorations.
• Garland can be found to coordinate with a variety of themes. This is an inexpensive way to add to your room's appeal.
• Color choices will help set the mood
---
FLORAL IDEAS

• Fresh flowers: You can never have too many of these. Bridal shower decorations based around fresh flowers are limitless. Place a large pot of fresh flowers at the entrance, to welcome your guests. Use flowers that are in season, and coordinate with your color scheme. If you are using a long buffet table, use several small pots of flowers, then one large pot, or a cluster of pots in the center. Wrap a ribbon around each pot in a complimentary color.
• Greenery:  live or silk plants, trees, or tabletop arrangements add a lush look to your location. These are found at most department and craft stores, as well as, online.

• Flower meanings are a fun way
 • Does her birth month flower have a special meaning?
 • How about using rose petals  to decorate?
---
LIGHTING IDEAS

• Decorative party lights can add just the right touch. They come in various shapes that may coordinate with your bridal shower theme. Liven up a drab hall, or accent a patio. Mini white string lights are often used indoors and out, to add a soft romantic touch to greenery. Added to a silk arrangement or topiary, they have an elegant look.
 • Decorate with candles for a special glow
---
OTHER DECORATING ACCESSORIES
• Pictures: a current picture of the couple, makes a simple but elegant bridal shower centerpiece. Pictures through the years, of the bride and groom, can be assembled in frames and displayed. You can also place photos on poster board around the room, or assemble an eye-catching collage. These bridal shower decorating ideas are great conversation pieces.

• Confetti can be used on tables to add color, sparkle, and creativity.
• Streamers: Braid 2 or 3 colors, loosely, and hang wherever appropriate. These are also very easy on the budget... a little goes a long way.
• Tulle: This material can be found by the yard, very reasonably priced. Hang by draping and twisting loosely. You can add silk flowers and greenery for a special effect.
• The bridal shower umbrella is a traditional bridal shower decoration found in most party stores. You can also make your own, by purchasing a white umbrella, then adorning it with lace, silk flowers, and ribbon.
• Add clip art to your decorations

• Remember the bridal shower gift table.
---
Other Related Pages

• Discover more bridal shower tableware ideas. These tips will help you choose the type of items that will work best with your party.
• Wedding shower supplies  to help with your party plans with more ideas for dressing your table.
***  There are many holidays and celebrations throughout the year.
You probably have decorations from some of these that look brand new. See, if any items will fit into your plans.
---
Have Any Ideas for Bridal Shower Decorations? Share Them!
Have you been to a bridal shower, and the decorations were spectacular? Or maybe you've planned a party on a limited budget, and have some creative ideas. Share them!
What Other Visitors Have Said
Click below to see contributions from other visitors to this page...

---
Homepage:
Contact Us:
Sitemap: