Bridal Shower Punch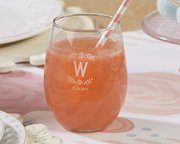 The bridal shower punch you choose to serve, should help enhance your party. Select a recipe that adds not only taste, but color and design. Read on, and you'll see what I mean.


Picture a beautiful crystal bowl or tiered fountain, filled with a colorful drink. Fresh fruit is floating on top. This look will add sparkle to your table.
It may even be used as the focal point or centerpiece.

There are also a variety of pitchers available. Some have a center infuser to be filled with fruit or ice. Others are decorative beverage dispensers that showcase the drink. Guests will be happy to help themselves from this lovely display.


---
Bridal Shower Punch Checklist

If you've decided to serve this type of drink, remember to keep the following ideas in mind:

• The time of your party may influence what you serve.
• Will you serve an alcoholic mixture, nonalcoholic, or both?
• You definitely need both, or an alternative, if children are attending.
• Bridal Shower and Holiday punch recipes ebook available immediately...
• What fruits are in season?
• If you're having a large number of guests, you may need more than one bowl. If not, make sure to refill the main bowl as needed.
• There are plenty of specialized blenders available, to make any of your drink recipes a breeze.

---
Basic Drink Recipes

Bridal Shower Punch Recipe
2 quarts  of either raspberry, orange, lemon, or lime sherbet. You may also use vanilla ice cream.
1 1/2 cups cold water
(1)12 oz can frozen lemonade concentrate, thawed
(2)1 liter bottles lemon-lime carbonated beverage, chilled
Fresh fruit slices

Spoon sherbet or ice cream into a large bowl. Add water and lemonade concentrate; stir until mixed. Slowly add the carbonated beverage. Stir to mix.
Float fresh fruit when serving.
Servings: 32 (4oz.)

Strawberry Punch
1 (48-ounce) bottle cranberry strawberry juice, chilled
2 quarts strawberry ice cream, softened
2 cups frozen strawberries, thawed
2 (12-ounce) cans lemon-lime soda, chilled

Combine cranberry strawberry drink, strawberries, and ice cream in a large punch bowl.
Beat thoroughly to combine ingredients until creamy.
Stir in soda just before serving.
Makes about 25 (2/3-cup) servings.

---
Additional Tips

• You may be having a very casual party. You can use any solid colored bowl. Think outside the box.
• Having a theme? Use a large bowl with a design on it that reinforces your ideas.
•  Themed ice trays are available with shapes that coordinate with your theme. This is a simple idea that is usually overlooked.


• Do you need some menu ideas?...
---
Homepage:
Contact Us:
Sitemap: