Tell Us Your Bridal Shower Story
You are invited to tell us your bridal shower story. This site is all about planning and hosting the perfect bridal shower. Even if this is your first wedding shower, you still have something to contribute.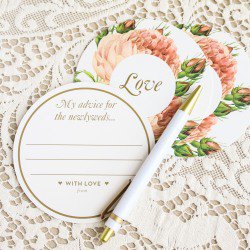 You may have planned a fun party. Maybe you're a great cook with a delicious recipe. Do you get a lot of compliments on your decorating skills? You might be very organized...how about a time saving tip? Maybe you were the guest-of-honor, and have some great memories.
*** Please share your ideas. Other visitors will be happy you did!
---
Ideas To Get You Thinking
The following questions are followed with suggestions to get you thinking. Please feel free to use your own tips:
• Any bridal shower theme ideas?
Did you attend or host a party with a theme? What was it? Why did you choose it?

• Have you received a special bridal shower favor?
What made it so special? Was it practical, sentimental, personalized, edible, or unique in any way?

• Have any unique bridal shower centerpiece ideas?
Did the centerpiece go along with the theme? Was something besides flowers used?
• Did you use a great cake idea, or see one you liked at a party?
Was it a simple cake with a great saying? Were the party colors or theme used?
• Have an entertaining bridal shower game?
Which games were successful, and why? Were guests all different ages?

• Share your bridal shower gift idea.
How did you choose the gift? Was it theme related?

• Ideas for a couples shower theme?
Was the theme chosen for the couple a fun idea?


---
Do You Have a Bridal Shower Story To Add?

• Do you have a cute  bridal shower poem?
Did you make up a poem for a bridal shower? How was it used?
•  Have any ideas for a beach theme bridal shower?
What decorations were used? Were beach favors given?

• Any suggestions for bridal shower decorations?
How did the decorations look at the party? What made them special?

• How have you saved money while planning a bridal shower?
Did you make your own food? Were decorations bought on sale?

• How about some suggestions for a Western theme party?
Where was the party held? What food was served?

• How is a bridal shower handled in your workplace?
Is the shower always at lunch time? Do you give one big gift or individual gifts?

---
• Go from Bridal Shower Story page, to the homepage.

Homepage:
Contact Us:
Sitemap: