Beach Theme Bridal Shower
A beach theme bridal shower is a great choice for the future bride or couple, who love sun, sand, and water. There are so many fun ideas. So, let's "hit the beach".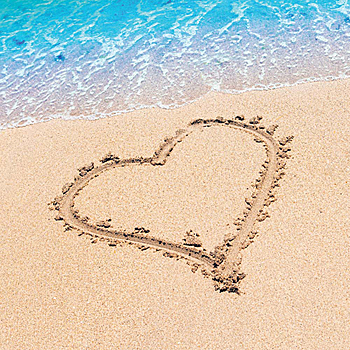 If you live near water, take advantage of this location. If not, or the weather is in question, base your choice on the number of guests. Whether you use a home or rent a hall, remember to allow some extra room for games and dancing.

• Your beach party invitation can be a simple design to go along with the casualness of your event. The front of your card could have sunglasses, a beach scene, seashells, or a beach chair. Request that your guests come in casual attire. This could be a t-shirt and shorts, or a sundress.
You may also suggest bringing a gift that's related to the beach theme bridal shower.

*** Have a great beach theme bridal shower idea? Share it!

---
C
reate The Beach Theme
Bridal Shower
Scene

• Beach theme bridal shower decorations: Fake or live palm trees immediately set the mood. If it's nighttime, trim them with mini string lights. If you're not at the beach, fill a kiddie pool with sand, and add some pails and shovels. Hang fishnet, adorned with shells. Stand some real or cardboard surfboards around the room. Set out beach chairs, draped with towels, for the guests. How about some umbrellas?
The Beach Love Basic Party Supplies will help you plan your bridal shower with ease. Choose essential items such as plates, napkins, cups and table covers. Add a coordinating banner, centerpiece and themed confetti. Guests will love the tropical  romantic beach feel you've created.
One of the nice things about a beach theme bridal shower is the easy cleanup!
---
Involve Your Guests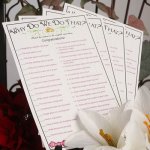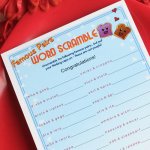 • Simple games can often bring guests together.
Indoor and outdoor games:
• Volleyball...use beach balls to add to the fun.
• Hula hoops...have contests for who can do routines the longest, for example swing around their arms, knees or waist. Most creative award.
• Badminton
• Horseshoes
• "Name that bridal shower beach party tune". Use any song with your theme. Start the song and see who can guess it first. Here are some to start: "Surfer Girl", "Under the Boardwalk",       
"Wipeout" and "Margaritaville".
• Limbo-how low can they go?

Hit the beach music will enhance your theme. Some favorites are:
• Beach Boys
• Bob Marley
• Jimmy Buffet
• Sublime
• Sugar Ray

---
Choose Themed Gifts



• Bridal shower beach party theme gifts:
• A gourmet picnic basket is a great idea.
• Beach bag filled with towels, lotion, sunglasses and flip-flops.
• Beach chair and umbrella
• Weekend getaway to a tropical resort (or a local hotel with a pool).
• Lotions, spa and foot care for beach-baring skin.

*** Style Tip : Give your bride, bridal party, or guests a trendy sandal. Havaianas flip flops have been spotted on Angelina Jolie, Cameron Diaz, Christina Aguilera, Jennifer Aniston, Beyonce, and Oprah.  Lucky Magazine  highlighted the company in their July 2013 issue, and Giuliana Rancic did an E! news feature on this beachwear accessory company. 

---
Serve Great Food and Drinks
Your beach theme menu can include goldfish crackers and watermelon for snacks. Hamburgers, hot dogs, and cold salads are simple meal choices.
• Have fun with tropical drinks.
Hawaiian punch or mixed fruit drinks are an option.
If you're having cocktails, remember lemons,
limes, stirrers, and mini umbrellas.
Pineapple chunks and cherries are also a good idea.
Drinks could be served in pineapples or coconuts.

Your dessert could be a beach theme bridal shower cake. Make
a sandcastle cake by stacking 3 or more cake layers. Use different size pans, or cut
the baked layers to desired size. Stack largest at the bottom, and get smaller with each layer as you go upward. Use vanilla or chocolate frosting. Add a decorative flag on the top and surround with seashells.
*** There is also a castle Bundt pan from NordicWare, available in stores and online.

---
Continue The Theme
Beach party favor:
• Seashells
• Flip-flop floating candle
• Beach chair picture frame
• Lip balm or gloss
• Small metal pails filled with candy
*** Choose beach theme bridal shower ideas
with the bride-to-be or couple in mind, and it will be smooth sailing.


---
Have A Great Beach Theme Idea?
Did you attend or host a beach theme bridal shower or party? What did guests comment on the most? What made it memorable? Share it!
What Other Visitors Have Said
Click below to see contributions from other visitors to this page...

Beach Theme Ideas...

Beach theme ideas...there is so much you can do with this theme. Who doesn't love the idea/feeling of being at the beach? You could make a music playlist …
Beach Theme Bridal Shower Party in PA Not rated yet
My bridesmaids are throwing me a beach themed bridal shower. They took glass bowls and colored sand and put seashells in the sand with water in it, as …
---
• Would you like to see our luau ideas?
• Go to Bridal Shower Ideas For You homepage.