Candy Buffet
A bridal shower candy buffet seems to be the "latest hit" with guests. This sweet addition can really add to your party plans. Whether you use the party colors, or reinforce your theme, treat it as part of your overall look.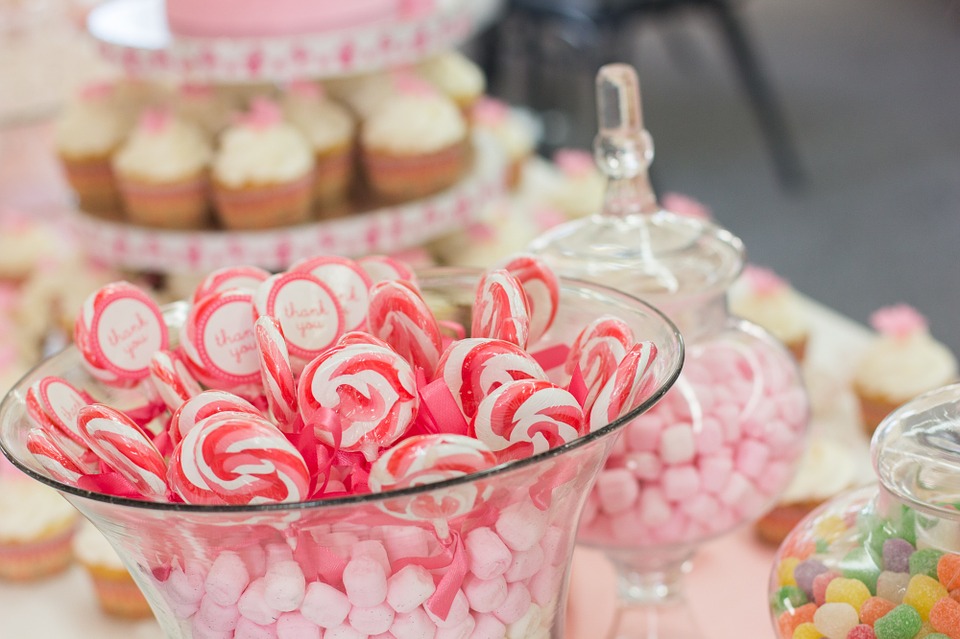 Shopping for these sweets, you'll find a great assortment of colors, types, and brands of candy. You'll be amazed at the variety.
It may be easier to narrow down your choices if you decide whether to mix colors or go with a monotone appearance.

---
Tips For All Candy Buffets
• It's always nice to pick items the guest of honor likes. Make sure to include her (or their) favorites.
• Make sure you have enough candy. The buffet will become part of your decorations. You want the look to be pleasing.
• If you're budget is tight, purchase bulk candy as much as possible. You can also add party items to the table. Silk flowers or confetti, can help fill in and dress up the area.


• Have a variety of candy...hard, soft, sweet, sour, spicy, etc.
• Use different types of holders for your sweets. Choose varying shapes and heights for the greatest appeal.
• Make sure your guests can help themselves to the candy, easily. Have spoons and scoopers available.
• Consider the temperature of your location. If you're having the bridal shower candy buffet outside in the summer, you probably won't have chocolates.
• Have treat bags or boxes available, for guests to take some candy with them.
• You may have decided that this will be your party favor. Make them up ahead of time. Keep on a separate tray or box, and clearly label them as a take-home favor.
---
Ideas For A Candy Buffet Using The Party Colors
• Choose only candy in your party colors.
• Match the containers to the party colors, and then sweets can be all different. This way you can choose an assortment of anything.
• Use clear holders, and let the party colors show through.
• Chocolates can be found with different colored foil.
• Choose candy in one of your party colors, and containers in your second color.

---
Suggestions For Sweets Using Your Party Theme
• Be creative with your containers. You can use margarita glasses for a Fiesta theme, flower pots for a Garden theme, or lined baskets for a Spa theme.
• Use salt water taffy for a Beach theme.
• If you've chosen a decade like the 60's or 70's, retro candy is very popular now.
• Girly Girl themes can have all soft colors, or just pink.
• Some candies have names that can be related to your theme.
• Spicy candies will reinforce a "spicy" theme.
• If you're making your own, there are molds in a variety of theme shapes.

---
• Go from bridal shower candy buffet page to bridal shower ideas for you homepage.
Homepage:
Contact Us:
Sitemap: