Bridal Shower Budget
Your bridal shower budget, in most cases, will be your main concern as you start your planning. The number of people giving the bridal shower will influence most of your choices, as the cost will be divided. Be sure to choose a figure that is affordable for all involved.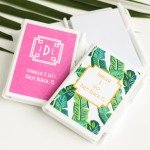 Where do you start?
What type of party would you like to plan? Simple, extravagant, or somewhere in-between. Decide what you think is most important to the bride. Then, allot what you will spend in each category.
---
Create A Bridal Shower Budget Checklist

Having a budget checklist will keep you on track. Make a list of all your event categories, from start to finish, that will have an expense.
• Invitations...a variety of price ranges are available. Remember to add the cost of postage.
• Decorations...balloons, flowers, props, etc.
• Paper goods...plates, cups, napkins, utensils, etc
• Cost to rent a hall, if necessary.
• If you are renting a hall or using an outdoor space, will you need to rent chairs, tables, or other equipment?
• Food...this could be simple snacks or a full course meal.
• Beverages...both alcoholic and nonalcoholic
• Cake...cost to make it yourself, or designed at a bakery
• Music...will you have live music or use a playlist?
• Entertainment
• Games
• Prizes
• Any photo costs you plan
• Favors
• Bridal shower gift
---
Next Steps To Take

Once you have your checklist completed, determine the number of guests.
The location may be the largest expense of your bridal shower budget if you plan to use a restaurant or hall. You may want to start with that estimate, first. Your bridal shower food and drink, will be two of your larger expenses,whether you have the party at a private home, or an outside area. What is reasonable to spend per guest, for the number invited?

Go over each point in your wedding shower budget checklist, and allot a certain amount, until you are happy with the results. Keep your priorities in mind. For instance, having less guests, would save money, but you may decide you can't cut the guest list. In this case, the food can be less extravagant, or you might just serve cake and coffee.


Finally, take one more look at our party checklist
to make sure you've planned for all items you'll need.
---
• Looking for ways to save on your wedding shower?
• Go from budget tips back to Bridal Shower Ideas...
---
Homepage:
Contact Us:
Sitemap: