Save Money On Your Bridal Shower
Are you looking for ways to save money on your bridal shower? A successful party doesn't have to put a strain on your finances. There are many ways to save money, and still have a great bridal shower. Check out these tips.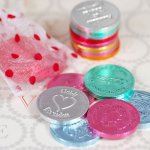 *** Do you have any money saving tips to use when planning a bridal shower?
---
Get Creative To Save Money On Your Bridal Shower

• Location...having a party at home, saves the expense of renting a hall. Other places to consider that may be free or cost effective are a community center, church or organization hall.
• Make your own invitations. There are kits available that make this very easy, or you may have the talent to design your own.
• Check your own supplies...you can enhance any size area, at minimal cost, by using items you already have around your home.  Look for baskets, candles, and other theme items that would fit your party plans.
• Borrow any extra chairs, tables, or equipment you need
• Flowers...cut fresh from the garden, if possible. Purchase what's in season.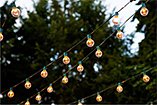 • Decorations....themed string lights add a festive look indoors and out. White mini lights can be used to accent plants, stairs, and shelves. Balloons are a great way to save money on your bridal shower. They add bursts of color at minimal cost.   
• Tableware...if you're having a formal party, use your own (or borrow) dishes and silverware. Sometimes you can mix and match colors and/or patterns for a pleasing overall effect
• If your party is casual, use paper plates, cups, and tablecloths. You'll find a variety of designs at affordable prices. Keep in mind that the design you choose will become part of your overall decor. Purchasing solid colors in quantity, is usually cheaper. You might also want to mix the two.
• Food...make it yourself, or with help from others. You can also order platters from the local grocery store.

• Cake or cupcakes...bake and decorate them yourself. Make sure to choose the bride's favorite flavors.

• Music...play cd's, or download her favorite tunes.

• Assemble your own favors. Choose a favor that can be placed at each guest's seat, with a name tag. It will help to dress up the room, and then become their take-home gift.

• Gifts...don't spend more than you can afford. If there is something the bride really wants, that is out of your price range, split the cost with several others.

*** Look to each area of planning for ways to save on your bridal shower.
---
Money Saving Tips For Bridal Showers
Do you have any money saving tips for bridal showers? Did you plan a successful party on a tight budget? Did you attend a party that used a simple idea that everyone loved? Share it!
What Other Visitors Have Said
Click below to see contributions from other visitors to this page...

Not Just For Valentines Day...Money Saving Bridal Shower Idea

After Valentines Day, there are always 50-75% off sales on items you can use at the shower. I bought all my party favors (gift bags, individual soaps, …
---
Homepage:
Contact Us:
Sitemap: