Couples Showers
Couples showers are parties thrown for the bride and groom. They are also known as "Coed or Jack and Jill" showers. Instead of the traditional event, many couples like the idea of a "together" party. Men are becoming more involved with all aspects of the wedding plans, so this is becoming more popular.
Typically, the bridesmaids will host the party.  However, anyone close to the couple can do this. This is also a perfect time to involve the groomsmen. You can ask them to offer party suggestions and ideas. You could also assign tasks they can to help with the day of the event.
***Sometimes there is confusion with the term "couples shower"
This applies to the guests of honor. It doesn't mean guests have to come in pairs.
*** Have any fun ideas for couples showers? Share Them!

---
Make A Plan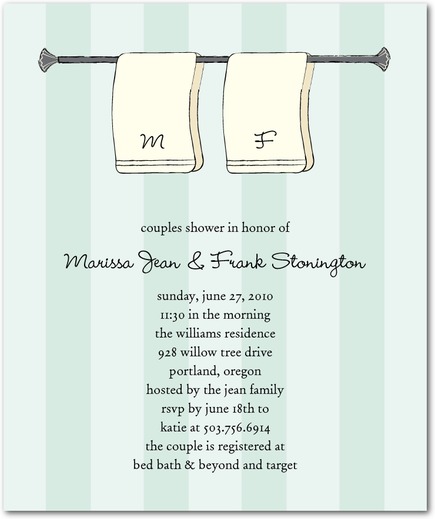 • Your location could be a favorite place of the future bride and groom. Do they have a special restaurant? You might also choose a rental hall, or someone's
home.
*** Have a limousine escort them to the party, as an extra special touch.
• Choose a date and time that is convenient for all.
In some cases, evenings work out better. Weekends are still popular.

• Before sending invitations, ask the pair (or someone close to them) to compile a list. Guests and friends of both partners are invited. Decide on the number to be invited. Ask both men and women, according to their importance to the couple.

• Let guests know the type of shower. You can have either one person in charge of RSVP's, or have the bride's side respond to one person, and the groom's side to another.
• Parties with a theme are a fun way to entertain. Think about this pair's interests. Do they play or watch the same sport? Do they have similar taste in music? How about gardening,
travel, art, etc.?

---
Decorations and Entertaining Ideas for Couples Showers
• You can choose decorations to go along with your theme. Think fun and simple. Remember to have some cameras on hand for those candid shots.
• A photo backdrop, or actual photo booth can be used as part of your decorations. It can be a focal point, or off to the side.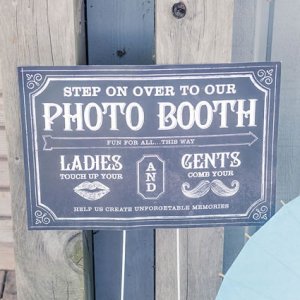 • Setting up a photo booth will definitely get your guests interacting.
If you decide to do this, allow time for this activity. It will become part of your entertainment.

• Are you looking for something quick and simple?
•Wedding Ring Scratch Cards Game are fun and easy entertainment at a couples showers.
Each set of 24 scratch-off cards has three winning cards and 21 losing cards. They are printed with an assortment of wedding-related phrases.

• More ideas for couples party activities that will fit your particular event.
---
Food, Gifts and Favors

Shower food:
• A buffet is often a great coed bridal shower idea. Select the types of food that appeals to the pair, and serve a variety.
• Include a favorite punch recipe in your party plan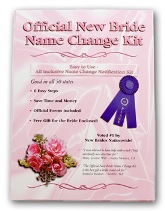 Gift Suggestions:

• Items that have been monogrammed or engraved show a personal touch. These are sure to be appreciated.
• A romantic gift basket is also a thoughtful choice.
• Is there a rock concert, play or sporting event they have been hoping to go to? Tickets are a great idea.
• Gift certificates might be a good choice.


• A Name Change Kit, if needed, is a good idea
• Favors are a nice remembrance. Selecting one that goes along with your theme, will help make your decision easier.
*** Enjoy planning for this special couple, and everything will go smoothly.

---
Have Any Great Ideas For A Couples Shower?
Do you have any great ideas for a couples shower? Have you given a successful couples theme party, or attended one? Share it!
What Other Visitors Have Said
Click below to see contributions from other visitors to this page...

---
• Go to Bridal Shower Ideas For You homepage.

Homepage:
Contact Us:
Sitemap: