The Meaning Of Flowers
The meaning of flowers can be a creative way of choosing floral decorations for your bridal shower. Through the years, the meaning of flowers, have added to their mystery sometimes denoting love and passion, other times friendship and loyalty, and even wealth and happiness.

Have fun with the flower names and meanings as you look into their significance. Keep in mind your theme, color scheme and the bride-to-be's taste. Then see if there is a way to combine them.
---
Add The Meaning Of Flowers To Your Party Plans

Flower names and meanings

• amaryllis...splendid beauty, pride
• anemone...expectation
• aster...elegance
• azalea...temperance
• baby's breath...innocence
• bird of paradise...magnificence
• buttercup...childishness
• calla lily...magnificent beauty
• calendula...joy
• carnation...pink...boldness, woman's love;
red...love,admiration; white...talent, good luck
• clematis...inner beauty
• cornflower...delicacy
• chrysanthemum...wealth,abundance, truth
• daffodil...respect, regard
• dahlia...gratitude, dignity
• daisy...innocence, loyal love

---
• day lily...coquetry
• delphinium...swiftness, lightness, fun
• forget-me-not...true love, remembrance
• freesia...innocence, thoughtfulness
• gardenia...purity, joy, sweet love
• geranium...happiness, comfort
• gladiolus...admiration
• hawthorn...hope
• heather...beauty
• hibiscus...delicate beauty, grace
• holly...enchantment
• honeysuckle...bonds of love
• hyacinth...play
• hydrangea...understanding, devotion

---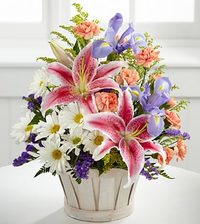 • iris... blue-faith; purple-wisdom; yellow-passion; white-purity
• jasmine...grace
• jonquille...desire
• larkspur...levity
• lavender...devotion, luck, success
• lilac...love's first emotion
• lily...majesty, truth, honor
• lily of the valley...happiness
• magnolia...love of nature
• marigold...affection
• morning glory...affectation
• mimosa...sensitivity
• myrtle...love
• narcissus...egotistical


---
• orange blossom...fruitfulness
• orchid...love, beauty
• pansy...thinking of you
• peony...determination, good health
• periwinkle...friendship
• poinsettia...flower of the Holy Night
• poppy...dormant affection
• primrose...early youth
• roses... red...love, courage, beauty; white...innocence, purity;pink...grace, admiration, gentle, lovely; yellow...joy, freedom; coral...desire
• snowdrop...consolation
• Star of Bethlehem...purity
• sweet pea...lasting pleasure
• sunflower...adoration
• tulip...passion
• violet...faithfulness, modesty, virtue
• water lily...eloquence
• zinnia...thinking of you
You may also want to check her birth flower.
---
Flower names, like everything else, have probably changed some through the years. So, don't get too caught up in the meaning of flowers. Sometimes, you might just like the way the flower name sounds!
---
• Using flowers in centerpieces...
• Go from the meaning of flowers to Bridal Shower Ideas homepage...
Homepage:
Contact Us:
Sitemap: