Bridal Shower Cookies
Bridal shower cookies come in a wide variety of shapes and sizes. They can be found individually, to go with almost any party style or theme. These desserts are often mini works of art whether created by home bakers or professionals. They are often used as take home gifts or table decorations.


Individual bridal shower cookies make great favors. Have them decorated with the bridal shower colors, if possible. Place them at each guest's seat to add color and interest to your tables. You can also have them displayed in a special basket by the door, for guests to take as they are leaving.

---
Bridal Shower Cookies with a Theme

• flowers in bright colors or soft pastels are the perfect choice for a garden, spring, or  summer theme.
• a sea horse, a starfish, a lighthouse, or a shell all have an outdoor feel.
• surf boards, flip flops, sandals, ice cream cones and sunglasses make these cookies just right for any beach or summer theme bridal shower.

• fancy high heels, a sleek or casual dress, a stylish purse, and even a tiara, are all items for a girlie girl theme, or sophisticated lady.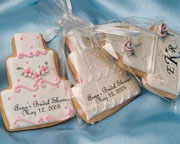 • Monogrammed Cookies
for any theme are a classic idea that's always in style.

• a golf bag or 18th hole cookie, can be used for a golf event
• a pair of dice, slot machine, or playing cards are a sure bet for casino night
• animals for a safari, or pet lover's theme can add a touch of whimsy or a dramatic feel.
• sports...football teams, golf, baseball, tennis
• occupations...realtor, travel agent, hair stylist, nurse
•good luck... colored fortune cookies can be chosen to match your event. Also, customize your message to make it personal.
• mittens, hats, and skis are a great winter treat
• Fall leaves, and acorns warm up an Autumn party

• upcoming holiday, such as Valentine's Day, Halloween, or Christmas can be specially ordered or found in local bakeries.

*** You may also serve a variety of cookies instead of, or in addition to the cake, for dessert.

---
If you decide to make your own,
Ebay
and Amazon have a good variety of cookie cutters. You're sure to find some that will go along with your party theme.
---
• Go from cookies page, back to Bridal Shower Ideas For You homepage...

Homepage:
Contact Us:
Sitemap: