Bridal Shower Chocoholic Theme Party
A bridal shower chocoholic theme party is a perfect idea for the true chocolate lover. She lists "anything chocolate" in the top five items she can't live without. So, think about how sweet it will be planning this party!
Once you decide on this theme, there are many options from which to choose. You might want to have a light lunch and add a decadent dessert. You may decide to offer a "desserts only" buffet. Depending on the time of year, you could choose hot cocoa and cookies. It's up to you.

---
Start Your Planning

• The location you choose can be inside or out, but the aroma of the chocoholic theme party lends itself to an indoor site.

• Invitations in the shape of a heart, a Hershey's kiss, or a favorite candy bar design, are all appropriate. If desired, politely suggest bringing a gift that's related to the bridal shower chocoholic party theme. If you plan to do any baking or candy making, advise guests to wear casual dress.

• Decorations for this theme can be any color scheme. Metallic gold or silver items work well as a contrast to anything chocolate. Heart themed decorations are appropriate. Hang streamers and balloons around the room. A chocolate fountain makes a great centerpiece.

• Don't forget paper goods for your bridal shower chocoholic theme party.


---
Add Some Fun

Games may include:
Chocolate scramble. Prepare ten words related to your bridal shower chocoholic theme party. Mix them up, and have them written on paper, to be handed to guests.
For instance "gduef" would be unscrambled to read "fudge". The first guests to get
all ten words, wins a prize.

---
Bridal Shower Chocoholic Theme Party Food

Yummy food: A fun idea for this bridal shower chocoholic theme party is to have a buffet of chocolate items, and snacks. You may choose from some of the following: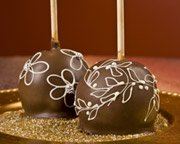 • bowls of M&M's
• chocolate covered pretzels and peanuts
• brownies
• chocolate chip cookies
• chocolate mousse
• chocolate fondue
• a chocolate fountain: surround with strawberries, bananas, and pound cake cubes, for dipping.
• Choose a hot or cold punch recipe to offer guests.

---
Sweet Gifts

"Can't resist" gifts:
• Box of Godiva chocolates
• Assortment of cocoas
• Sundae gift set
• chocolate fountain
Chocolate Favors:
• Favorite candy bar
• Hershey kisses wrapped in tulle, and tied with a ribbon
• Package of cocoa with card attached stating name and date of bridal shower
---
• Go from chocolate theme page, to Bridal Shower Ideas For You homepage.

Homepage:
Contact Us:
Sitemap: