Bridal Shower Pizza Party
A bridal shower pizza party is for the bride who loves pizza. It is typically a casual event. This fun theme that works well with small or large crowds. If you're having a couples party, this is one the guys will enjoy.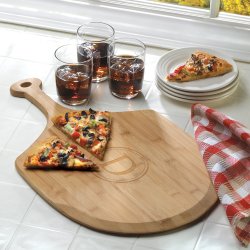 • Your location can be a private home, rented hall, or neighborhood restaurant. The number of guests will help you decide. You'll find it to be budget-friendly, and easy to plan.
---
Invitations
You can purchase or make your own invitations.
Choose designs such as:
• a slice of pizza,
• pizza box
• a cook with a hat and apron, preparing the pie 
You may want to suggest that guests wear casual attire.
Let them know if the gift should be theme related

---
Bridal Shower Pizza Party Decorations
Fun bright-colored decorations are suited to this theme.
• Use solid or check tablecloths. Red, white, and black are well suited to this theme.
• Add colorful balloons, streamers, and flowers.
• A chefs hat and apron could be hung, or draped across a table
• Stack empty pizza boxes on the main table for effect.




Plastic and paper items are ideal for this theme, making for an easy cleanup.
---
Entertainment
• Games for your bridal shower pizza party.
• Have a demonstration by a cook or pizza chef. Tossing the dough is an art form and will definitely keep your guests attention. Then have them explain the rest of the process...toppings, cooking time, oven temperature, etc.

• The music you play, will depend on the crowd. You can keep it soft, or you may want it lively. Opera singers are a suggestion.

Menu
Your menu will include pizza, of course!
• If you are having the party at a restaurant, you will deal with them on how to handle the meal. It will probably depend on the number of guests, and whether it is sit-down or buffet. If the group is large, you may order a certain number of pizzas ahead of time. Possibly a sampler, could be prearranged.
• At a rented hall or catered affair, you'll have to preorder your food items.
• A small group, at a private home, could make their own pizzas. Schedule this as part of the activity. Have pizza dough ready. Let guests choose toppings such as pepperoni, mushrooms, pepper, onions, sausage, anchovies, etc.

• Have plenty of drinks...iced tea, soda, beer, or wine.

A bridal shower cake is always appropriate for dessert. You may also want to offer something light, like sherbet.

---
Gifts and Favors

Pizza party favors:
• mini pizza cutter  
• pizza magnet
• gift certificate to a local pizza parlor
• pack of recipe cards with a pizza motif
  


Bridal shower pizza party theme gifts:
• Pizza party gift basket.
• pizza pans and slicer
• gift certificate to a local restaurant
• gingham tablecloth and napkins, for indoor or outdoor use

---
• Still deciding on your bridal shower theme?.
• Go from pizza party theme page, to Bridal Shower Ideas For You homepage.

Homepage:
Contact Us:
Sitemap: