Craft  Bridal Shower Theme
A craft bridal shower theme is centered around an activity that can be enjoyed by all. It is a fairly new idea. If this future "Mrs." loves to try the latest creative activity, then this theme may be the way to go. Let's see how you can make this fun for everyone.

Scrapbooking has become a popular pastime, so let's follow through with this craft. It is easy to learn, and can often be completed in a reasonable time frame. You can decide to do one main project, or several small ones.
How about creating a honeymoon album for the couple? Assemble maps and designs of their destination, with pages ready for their pictures. Another idea is a "Friends Through the Years" keepsake album.

---
Location and Invitations

The location for this theme can be indoors or outside. This will be based on the craft you've chosen, number of guests, and the weather. Make sure you choose a place that has enough space for the activity you've planned.

Creative invitations are a great way to start this theme. Explain your idea. Include any items you'd like the guests to bring such as cherished photos of past memories with the bride. If you don't make the invitations, you can send a traditional style or one that has a crafty design.
---
Craft Bridal Shower Theme Decorations

Choose a color scheme for your craft wedding shower theme.
• Look to colors the bride favors, or take shades from your scrapbooking items.
• Let your craft supplies become the centerpieces.
• Banners, with quotes about the bride, can be hung at various heights around the room.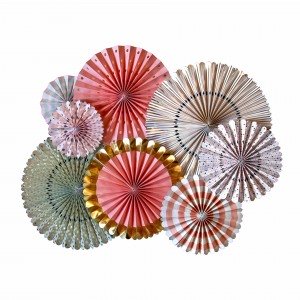 • Use these colors for streamers, balloons, and tablecloths.
• Tableware for your event can be solid colors or a pattern. Try to coordinate with the rest of your decorations.

---
Party Entertainment

• This is definitely a time when the theme is the entertainment.
*** Make sure you have enough supplies and tools for guests to complete the craft bridal shower theme you've chosen.


• Play a game halfway through your project. Whatever craft you've chosen, make sure to take a brake.
• How about Alphabet Scrapbook? Start with a guest at one end of the table, and proceed clockwise. Beginning with the letter "A", name something to do with Scrapbooking. This continues through the letters of the alphabet. If someone can't use their letter, they are out.
Continue until there is only one guest is left.
• There is no right or wrong music for a craft theme. Go by what the bride-to-be likes, and the age of the guests. In general, it's better to keep the music playing softly in the background. This enables guests to concentrate on what they are doing, and listen to any necessary instructions.


---
What's on the Menu?

• When planning your menu, keep in mind that your guests will be busy. You may decide that your craft bridal shower theme just needs snacks, an assortment of desserts, or both (served at separate times.)

• You'll want to have snacks served with a fork or toothpicks, so guests can keep their hands clean while crafting.

• Remember to keep the punch bowl filled for your craft theme party.

• A bridal shower cake, to match the color scheme, is a great dessert idea. Decorate with a crafty saying and design.

---
Crafty Gifts and Favor Ideas

The following are gift suggestions for the scrapbook theme:
• album
• card stock
• die cutter
• embosser
• tote or organizer
• scrapbook magazine subscription

Crafty Favors:
• mini album
• paper punch
• paper shaper scissors
• small basket filled with ribbon and buttons

---
• Need other party theme ideas?
• Go from craft theme page, to Bridal Shower Ideas For You homepage.

Homepage:
Contact Us:
Sitemap: