Bridal Shower Kitchen Party Theme
A bridal shower kitchen party theme is an event with general appeal. It is definitely useful for those just starting out. It will also help those who may already have starter items but would like to add additional pieces.

Dishes, pots, and pans are just the beginning. There are so many other items that would be appreciated. Anything from a small utensil, to a large appliance. So, let's get cooking!
---
Pick Your Location, Send Your Invitation

• A private home is an ideal location for this cozy theme.
A rented hall is also an option.

• A blender, canisters, or a teapot, are some of the designs available for your  bridal shower kitchen party theme invitations. Include a blank recipe card and ask guests to fill it in with one of their favorite recipes. The day of the shower, the cards can be assembled into a small album or recipe box, to be given to the future bride or couple. Suggest guests bring a gift related to the party theme. Including stores where the couple are registered is a big help.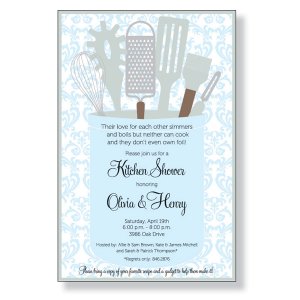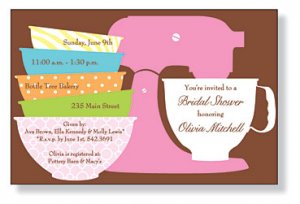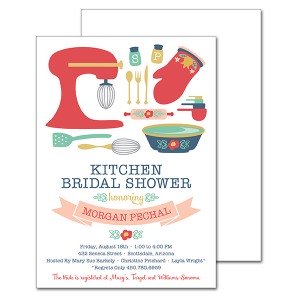 ---
Bridal Shower Kitchen Party Theme Decorations

• If the guest of honor has picked out her kitchen colors, using these for the bridal shower kitchen party theme decorations is the perfect choice. Knowing her style is also a help. If contemporary, use solid color tablecloths and bright balloons. A country gal would like gingham and bunches of flowers. A romantic will like floral designs and candles. Pick her style and go from there. A bridal shower kitchen party theme centerpiece could be a canister filled with flowers or a utensil holder with utensils. Clear jars filled with beans or rice, and tied with a raffia ribbon, is also an option. Fresh flowers and plants scattered throughout the room will add warmth to any style. Your paper or linen goods will also add color to the overall
effect.
---
Games And Music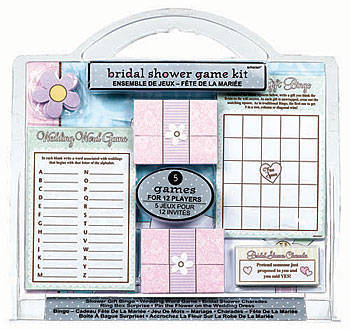 Want to play games?

• This deluxe game kit includes five activities for up to 12 people

• Kitchen utensil scramble...hand out sheets of paper with a list of 10 to 20 items from the kitchen whose spelling have been mixed up. The guest who guesses all items correctly, first, wins.
• What cooking?...Have some basic recipes ready. Start to read the ingredients, one by one. Guests can start guessing, from the first ingredient, until someone gets "what's cooking".


Cook up some good music: This is a mellow theme, but your
music doesn't have to be. Pick according to the future brides taste, and the age range of your guests. In general, it's better to keep the music playing softly in the background.
---
 Gift And Favors

Basic, not boring, bridal shower kitchen party theme gifts:
• Everyday dishes
• Canister set
• Everyday silverware
• Tablecloth
• Pots and pans
• Utensils
• Cookbook
• Coffee Maker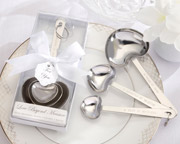 Kitchen theme favors:
• Small rolling pin (from craft store)...write name and date of shower on it.
• Pack of recipe cards
• A bottle of spice...personalize by printing a label with brides name and date of shower, and put it on the bottle.
• Measuring spoons...attach a card with name and date of the shower. Tie with a colorful ribbon.
---
Menu Ideas

What's cooking on the menu?
Simple Snacks:
• Bread bowl with dip...Start with a round loaf of rye or pumpernickel bread, and scoop out the inside. Cut this inside section into cubes. Fill bowl with your favorite dip, and use the cubes of bread for dipping.
• Vegetable tray

Main meal:
• Hot roast beef with rolls
• Mixed green salad
• Mashed potatoes

Choice of drinks:
• Hot tea and coffee
• Iced tea
• Punch recipes for your kitchen party.

Bridal shower kitchen theme dessert:
Ice a sheet or layer cake in one of the main shower colors. Add any small items that can be kept and used by the bride (such as a set of measuring spoons). Having the cake on a serving dish from the brides everyday dishes, that she can keep, is an extra idea that will be appreciated.


---
• Do you need more gift ideas for this theme?
• Choose from other bridal shower themes...
Homepage:
Contact Us:
Sitemap: