Bridal Shower Casino Party Theme
A bridal shower casino party theme is a great idea for a couples shower, or "just the girls".  You don't need to travel to Las Vegas or Atlantic City to have this experience. You'll be able to create this idea with some simple props and a little planning.

The entertainment is built in, and fun is a guarantee. Your guests will enjoy the excitement of live games while having a relaxed atmosphere. So let the games begin, with these casino theme party ideas!
---
Location and Invitations

• Using a private home or rented hall are your "best bet" for this theme's location. Think about the number of guests you're inviting. Then plan the table space you'll need for games and food.

• Invitations with a deck of cards, poker chips, a roulette wheel, or a pair of dice are just some of the designs available for your bridal shower casino party theme. If you'd like guests to bring a gift that's related to the theme, politely tell them.
---
Bridal Shower Casino Party Theme Decorations
• Casino decorations can depict a scene from a Las Vegas, Atlantic City, or Monte Carlo casino. Guests enter, and are given a deck of cards, and some poker chips. Bright colored balloons (think red, green, yellow, white and black) decorate the room. Make large playing cards and chips from foam or poster board, and use around the room to help to create an authentic atmosphere. Set up individual tables as gaming stations.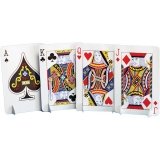 • Add these bridal shower casino party theme decorations to your event.

---
Menu
Often, a casino theme party is held in the evening. You may decide to just serve drinks and snacks. Use bright-colored plastic bowls, set on each table. Make sure to keep them filled with nuts, pretzels, and chips.
• A good punch recipe is a "sure bet" for your casino party.
If you have a main course, a buffet is easiest with a bridal shower casino party theme Lucky Dessert: A sheet cake already has the right shape. Decorated  it to look like an "ACE" in the suit of your choice. Add poker chips around the rim.

---
 Casino Favors and Gift Ideas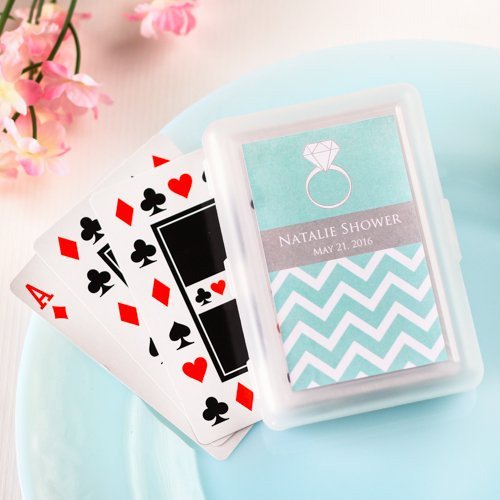 Lucky Favors:
• Lottery tickets
• Personalized Vegas theme chocolate bar
• Personalized theme playing cards
• Poker chips

"Best bet" gifts:
• Set of engraved toasting glasses
• Card table and chairs
• Poker set
• Champagne celebration gift basket

---
Entertainment
Games of chance: It's a good idea to have a few simple instruction books for your games at the tables.
• Roulette
• Craps
• Poker
• Blackjack
• Slot machines
Have some simple games such as Bingo or UNO, on hand for those who may prefer games they already know.
Background Music:
There is quite a bit of noise with this theme, so you don't have to worry as much about what is appropriate. Choose the bride or couples favorites. You could also play tunes like Kenny Rodgers "The Gambler".
---
• Need more bridal shower theme ideas?
• Go from casino page, to Bridal Shower Ideas For You homepage.

Homepage:
Contact Us:
Sitemap: