Sample Wording For Bridal Shower Invitations
Looking at sample wording for bridal shower invitations will be helpful, especially if you are planning your first event. You can do this by reading a variety of cards. Your choices will include formal, casual, soon to be Mrs., or couples showers. Each may be slightly different.

Let the wording you choose reflect the style of the party are having. You want to coordinate your plans from start to finish. The following are some sample ideas.

---
Traditional Style

Many bridal showers will fall under this category. The following includes the typical information.

Please join us
for a Bridal Shower
in honor of Kristi Jones
Saturday April, 28, 2015
1 o'clock
368 Beach Drive
Oceana, CA
Given by Shannon Jones
Please RSVP by April 14, 2015, (555)287-5916
Kristi is registered at Macys

---
Sample wording For Bridal Shower Invitations
with a Formal Touch

Are you planning something more formal?

Please join us to celebrate
at a Bridal Shower
in honor of Mary Casey.
Saturday May 21, 2015
at 2 o'clock in the afternoon
Landford Country Club
Springs, New York
Given by her bridesmaids:
Sue, Gwen, Jean, and Cheryl
Please RSVP by May 7, 2015
to Gwen (555)489-2741
The couple is registered at Williams Sonoma

---
A Casual Touch

A carefree or casual style is reflected in the following words.

Come join the fun.
It's a Bridal Shower
for Shannon James
October 19, 2015, at 1:30
347 Dogwwod Lane
South Beach, FL
Given by Kristi James
RSVP-regrets only.
Shannon is registered at Kohls
Please bring a copy of your favorite recipe.

---
Invites for Couples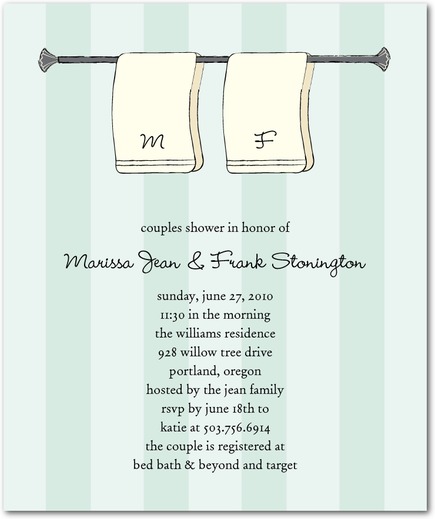 Wondering how to share the news of a shower for two?

Please join us
for a Couples Shower
in honor of
Kyle and Lacy.
Sunday June 12, 2015
2:oo pm
527 Hanover Court
Westside, New Jersey
Given by: Sally and Jim
RSVP by May 28, 2015
The couple is registered at JC Penney


• Browse Basic Invite.com for sample wording for bridal shower invitations.
Their great variety will give you many options from which to choose

You can also look at your favorite party shop or online store for sample bridal shower invitations. Then choose one that suits your needs.
---
Some other pages that may be of help to you:
• Do you have an invitation etiquette question?
• What are the information basics to include?
• How can you make your invites unique?
Homepage:
Contact Us:
Sitemap: