Bridal Shower Corsage
A bridal shower corsage isn't necessary, but it sure is nice. It's just one more way to make the guest of honor feel extra special. Choose, as always, what you think she would most appreciate.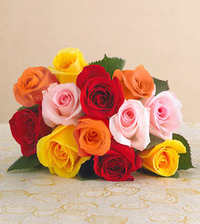 Think about your party colors. You may want to combine one or more of them, when selecting your flowers. If you know she likes a particular flower, then you'll have an easy decision. Choose this favorite, if it's available. Her birth flower is another way to add extra meaning.
---
Purchasing A Corsage
You have several options for purchasing corsages.
• You can order your wedding shower corsage from your local florist.
• Most larger grocery stores usually have a florist on staff, who can make custom orders. They often have a refrigerated case with ready-to-go items.
• Craft stores are another option. Some have very creative floral designers. They will typically use artificial flowers.
• Online you will find a variety of both silk and fresh flowers.

---
Do It Yourself Bridal Shower Corsage Ideas
You may wish to design and create your own bridal shower corsage. Here are some ideas to consider:

• Fresh Flowers: Choose the bride's favorite color, or a color to match the party. An odd number of flowers works best in a small design.
Start with greenery such as fern, then add flower/flowers. Cut so the stems are fairly short. Wrap with floral tape. You may also add some baby's breath as filler. Insert floral pin. A 1/2" or 1/4" ribbon bow may be added, in a complementary color.

• Silk Flowers: the same rules apply as for fresh flowers.
Lay out the design and decide what looks pleasing to the eye.

• Garter corsage: shape your garter into a circle. Pin it to the greenery. Then add a floral pin. This is a unique idea. You have created a keepsake which can also be tossed at the wedding.

• Hanky corsage: this is a lovely gift can be used the day of her wedding. Purchase an elegant handkerchief. Fold into a rounded or oval shape. A small silk flower can be added to the center, to hold it in place. Add a pin.

***  Add a charm or other theme related item to any corsage, to further customize your creation.

---
• More ideas to make her bridal shower unique.
• Go from corsage information, back to Bridal Shower Ideas For You homepage.
Homepage:
Contact Us:
Sitemap: