Gift Basket Idea
Looking for a bridal shower gift basket idea? This is a fun gift to choose. You may or may not know the couple very well. Don't worry, you'll have plenty of options.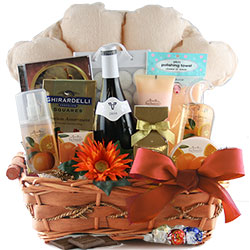 Once you start looking, you might even be overwhelmed. There are so many choices. If you don't have a category in mind, answering the following questions may help you decide.
---
How To Decide
• What are the couple's needs?
A young couple starting out would need basic household items.
A good example, is a bathroom essentials package. Start with their color choice of a waste basket. Add towels, soap dish, soap, and a pretty candle.

• What if the couple already has all their household needs?
Do they have a hobby in common? They would probably like something related to this.
Do they play the same sport, or workout together? Maybe they could use new gear.
One option is to assemble items they can use on their honeymoon.
A  honeymoon beach kit is a great gift basket idea

• What is the party theme?
A gift basket based around the theme is a great idea. Purchase one already assembled, or put it together yourself using items associated with the bridal shower theme.
• Design It Yourself Gift Baskets is a great site to help you create a personalized gift.

• How do I make my own?
Decide on a container. There are many choices besides a basket.
How about a colander filled with Italian food, or a mixing bowl filled with kitchen utensils?
Then, purchase items to put in your container. Practice arranging them until they are pleasing to your eye.Enclose with cellophane. This is sold at craft stores, and online. Add a colorful bow and curly ribbon.


---
Choose A Gift Basket Idea Around
The Bridal Shower Theme

The following are theme ideas. Take a look. You might find the perfect gift to purchase, or inspiration to make your own!

• Book lover...whether it's the latest best seller, a hobby, or a romantic novel, this is sure to appeal to the avid reader.
• Coffee obsession...regular or decaf, flavored or plain, cream or black, customize to her/their individual taste.
• Destination theme...choose their hometown, or honeymoon location, and add the local favorites.
• Gardeners delight...tools, containers, and seeds are just some of the basics for those with a green thumb.
• Golf  ideas...score a hole in one with a golf theme basket.
• Movie madness...science fiction, comedy, thriller, or documentary...there are all types of gift basket ideas for the movie buff.
• Spa sets...relaxing, pampering products are always welcome gifts.
• Sweetheart picnic basket...the name says it all.
• Tea obsession...teapots, cookies, and assorted teas are great for the tea lover.

*** Gift baskets have a beautiful presentation. Usually the packaging, as well as the contents, will be used. So be assured, this gift idea will be well received.

---
• Do you need more gift ideas?
• Go from gift basket page to Bridal Shower Ideas For You homepage.

Homepage:
Contact Us:
Sitemap: