Bridal Shower Hostess Gift Ideas
Bridal shower hostess gift ideas are often considered for whoever plans the event. While not a requirement, a small present is appreciated. Whether or not a token of appreciation is given, a handwritten "Note of Thanks" should definitely be sent to each person involved in the party plans.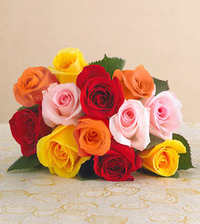 The bridal shower may be given by an individual, such as a friend or relative. In this case, the bridal party may want to give a gift to the hostess. This event is often a joint effort by the bridesmaids or wedding party. The bride may want to thank them. The number of hostesses, and the budget, will influence the type of "Thank You" gift.

---
Suggestions for bridal shower hostess gift ideas
• Flowers: fresh ones are always appreciated. Send a bouquet of her favorite flowers if you know them. You could also choose a color scheme that would match one of her rooms. A seasonal plant is also a good idea..
 
• Gift certificate: with the variety available, you can't go wrong. Most stores offer some type of gift certificate. Has she mentioned something during the planning of this event, that she was thinking of purchasing? If so, pick a store where she can get this item. If there is more than one hostess, you can personalize by choosing separate ideas for each.

• Gourmet coffee or tea: if you know what she likes, that's always a safe choice. You could also .purchase an assortment of flavors, or give one with a mug.

• Picture frame: this is always a good idea. Try to choose one that goes with her style. Insert a picture from the bridal shower in it, and she'll have a wonderful memory.

• Personal skills and talents: can you paint, sew, design floral arrangements? Are you a good cook? Look to your own strengths to give a personalized gift.                                      
• A Pretty Apron: an assortment of designs and styles can be found. You're sure to find one she'll love.
• Candles: these are sold in all different scents, shapes, sizes, and price ranges. Choose your bridal color as a remembrance of the party, or pick a color to match her home.

• Perfumes and lotions: if you know her favorite, choose it. If not, there are a variety of sets available. You may want to pick an assortment of small lotions, or perfume samples, and assemble them in a nice gift basket.
---
• Do you need more bridal shower hostess gift ideas?
• Go to Bridal Shower Ideas For You homepage.
Homepage:
Contact Us:
Sitemap: