Bridal Shower Cake Jewelry
Bridal shower cake jewelry is any decoration that adds extra sparkle and style to your dessert. It is one more way to add a personal touch to your party plans. It can be subtle or extravagant. Whether it has contemporary or vintage appeal, it can certainly make a statement. This latest trend looks like it's here to stay.

If you're thinking of using this idea as a cake topper, you have a variety of choices. So, look to your theme, type of shower, and size of dessert, to help you decide. Then, use it alone or in combination with other decorations, for the perfect look.
*** Keep in mind, your cake jewelry can be saved after the party, and framed or used in some creative way.
---
Choosing Bridal Shower Cake Jewelry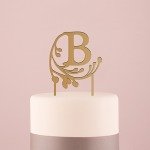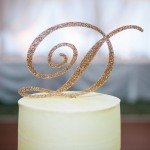 • A variety of monogram bridal shower cake jewelry and other toppers, can be found at Beau Coup.com. Monograms are timeless, and never seem to go out of style. They have a classic feel, but can still have a simple modern appeal.  Choose one or more initials. You'll also have a choice of font types.
• Silk flowers, plain or adorned with crystals, can be found to complement most party colors. You may be surprised at how lifelike some of these look.  They have the advantage of being easy to work with, without the fear of ruining them.

• A spray with heart-shaped drops, can be whimsical and romantic. Use alone, or in addition to other items.

• A plastic heart covered with crystals makes a statement.  Add two or more, for extra bling.
• A jeweled picture frame with the couples picture is always classic. You could also do a grouping of mini pictures showing friends and family members.

• Crystal butterflies are the are the symbol of joy, love, and new life.

• Any theme-related item decorated with jewels, can reinforce your party decorations.
*** Swarovski crystal is often used for the ultimate shine.
---
It is easy to make your own. Take a look at your local craft store or online. One idea is to buy silk flowers to match your color scheme. Crystals are sold in a variety of colors. Choose complimentary colors, and use glue to adorn your flowers. You'll be surprised at how a small amount will add such sparkle.
---

• Return to Bridal Shower Ideas homepage...
Homepage:
Contact Us:
Sitemap: