Bridal Shower Favors
Bridal Shower Favors are token gifts given to guests as a "thank you" for attending the bridal shower. These souvenirs are meant to be a lasting remembrance of this special event. Most guests will cherish and save these, so put some extra thought into this party choice.


---
The following list will give you some of the best categories and choices:
Favors by Season:
• What's new for Spring bridal shower favors?...sweet soft colors reflect these party choices.
•  Summer favors...cool, tropical, fun...all describe this carefree category.
•  Fall theme...this great selection uses the colorful warmth of the season.
• Winter favors...it will be hard to choose from this great selection of cozy ideas.
---
Favors by Type:
• Bath and soap favors are a lovely way to add color and scent to your party. These can be clean and fresh, or have a romantic feel.

• Beach bridal shower favors include shells, suntan lotion, and bottled water. Whether it's an island getaway, or a backyard pool party, these ideas work!

• Candles are always a hit. They come in many different colors, shapes, and scents. You're sure to find the perfect fit.

• Chocolate favors can be found in a variety of delicious artistic designs, making these a popular choice.

• Create custom candy bars at My Candy Bar Wrappers.  Imprinted with the name and date, these memorable souvenirs are sure to impress your guests.

---
---
• Coffee and tea packets, alone or with a mug, can be used for a Kitchen theme, or other classic party. These come in a variety of gourmet flavors.
• Designer cookies are creative options for a variety of themes, making these treats delicious winners!

• Edible favors can include jam, salsa, chips, and nuts, in individualized servings. Get creative, and choose something that goes along with your theme.

• Garden favors can include seeds, plants, sachets, and other natural choices.

• Mint tins can be personalized with the name and date, are a great bridal shower favor idea.

• Place card holders can serve double duty. Use these as table decorations, and then let them be take-home gifts for your guests.

---
• Personalized items are always unique.
Adding the name and date of the wedding shower is always a lovely sentiment. It shows you put extra time and thought into your idea.


• Create Personalized MY M&M'S®
- The Perfect Party Favor for All Occasions.
• More ways to personalize your favors

---
---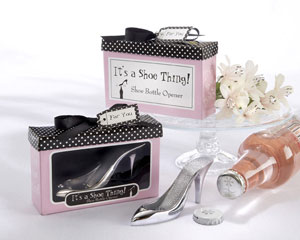 Favors by Theme

Reinforce your party theme ideas, by choosing favors that go along with the mood you are trying to create.
• Asian favors incorporate the beauty of the Far East. Chopsticks, bamboo coasters, and fortune cookies, go along with this theme.

• Casino choices are a deck of cards, casino chips, and dice shaped cookies.
• Favorite Places....location! location! location!
• Golf favors have golf balls, visors, and golf bag luggage tags, among the stylish choices for this classic sport.

• Fairy Tale gifts can be a slipper bottle opener, a carriage box filled with candy, or a tiara place card holder. Dreams come true with these magical ideas.

• Spa theme can use any pampering item. Bath salts, manicure set, or an eye mask all coordinate with this choice. You could also tie some pretty ribbon around a bottle of lotion, and you're set.

• Wine favors will be used, not just saved. as they include bottle stoppers, corks, and wine glasses.

---
More Suggestions:
• Inexpensive favors... it's easy to stay within your budget.

---
Would you like to make your wedding shower favor?
• Check here for do it yourself  favor ideas.
Do you have a mixed party guest list, and need some
*** Don't forget to add  tags.

Bridal Shower Favors are often handed out to the guests as they are leaving. It is their final impression of this special day. Make it a memorable one.

---
What's the best favor for a bridal shower or party, you ever received?
Were you given a bridal shower or party favor that you just loved?
Was it sentimental, funny, or just practical? Was it related to the party theme? Tell us about it!
What Other Visitors Have Said
Click below to see contributions from other visitors to this page...

Bud Vase Place Card/Photo Holder Bridal Shower Favor

This is the best bridal shower favor because I use it ALL the time. You only need one small flower to make an elegant statement. I don't have much of a …
Personalized Candies

The candy is inscribed with the name(s) and/or date of the occasion. It makes a perfect favor because it is specially made and delicious. I think it's …
Wedding Favor Bookmarks Not rated yet
Bookmarks make great bridal shower favors. As an avid reader, I love getting bookmarks! Even if your guests aren't particularly readers, I think bookmarks …
Custom Drink Koozie
Bridal Shower Favor Not rated yet
I received a custom drink koozie as a bridal shower favor and it was so perfect! The koozie matched my friends wedding colors. I use it all the time. Guests …
Huephoria Painted Martini Glasses Not rated yet
Give a bridal shower favor they'll remember. I am more of a wine fan than I am a martini fan which is why I personally love the unique wine glasses. …
Corset Soaps! Not rated yet
Who doesn't love a corset? Perfect favor idea for a girly bridal shower. Not to mention this is a favor your guest can use! Customizable for any bridal …
Photo with the Name of the Couple Not rated yet
When we left the shower, everyone received a photo of the couple engraved with their names. I had never, and will probably never, meet the spouse. It …
Sand Dollar Art Not rated yet
My mother, sister, and I got together and decided to go with a "Key West" themed bridal shower. I was born there and our honeymoon was in the bahamas. …
Watering Can & Seeds Not rated yet
For my cousins shower, my mom & my sister painted small wooden shapes of a watering can in the bride's colors of purple & white. They were each personlized …
---
• Go to Bridal Shower Ideas For You homepage...

Homepage:
Contact Us:
Sitemap: